Hey Besties, it's been a minute, so we just wanted to re-introduce ourselves.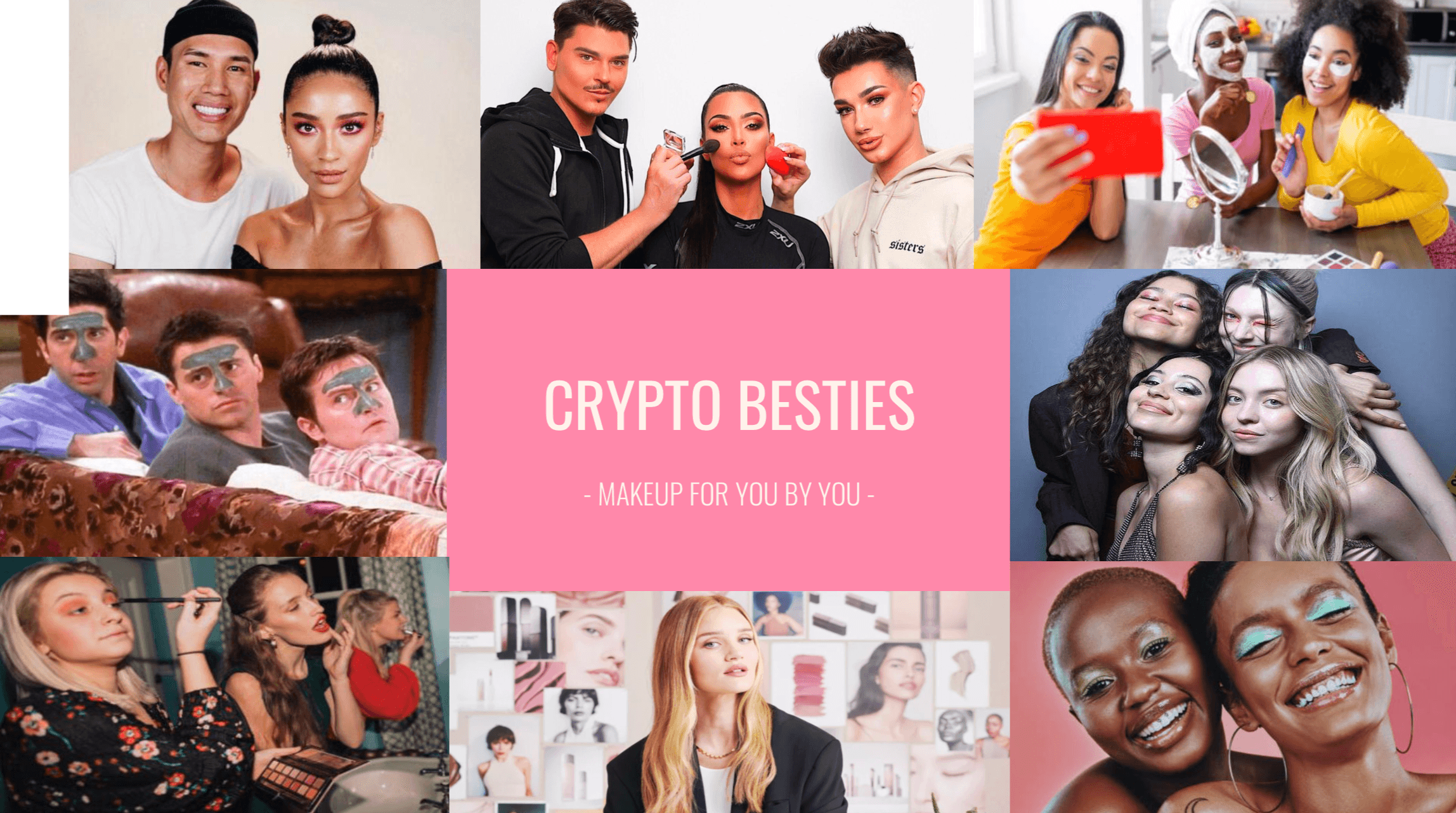 Crypto Besties began as a community dedicated to lowering the barrier of entry, learning more about the crypto ecosystem, and looking at the financial system in a new way. Best Friends are non-judgemental, accepting, and fun, and that's the type of space we wanted to create within our community, to onboard more women and under-represented groups into crypto. We hosted virtual and IRL meetups, produced educational content, started a job board, and are hosting a virtual job fair, we want to become a hub to meet like-minded individuals, make new friends, and learn together.
Over time we were seeing more and more crypto-curious members joining our community, but we recognized there was a gap in incentives and ownership opportunities for our non-crypto-native friends. With the rise of incentivized communities, DAOs, and utility NFTs we believe there's a potential to bridge this gap through shared interests. This inspired us to launch the first digital-physical makeup collective, where beauty lovers would have the opportunity to craft, create, and curate beauty products and experiences.
MAKEUP FOR YOU BY YOU. 💄✨
The Opportunity:
Women & Crypto
More than two-thirds of US cryptocurrency investors are men, and about 60% are white.
Women & Consumer
Women direct 83% of all consumption in the United States, in buying power and influence.
Women & The Beauty Industry
The global beauty industry is worth $511 billion, but women only occupy 34% of board seats and 24% of executive positions at beauty companies.
Women & Leadership
Additionally, 40% of women say that having women in leadership positions would positively impact all women's lives.
Women & Makeup
Women in the US spend up to $200,000 on beauty products in a lifetime and $3,756 on beauty products each year.
Women & Online
93% of women are very online. 92% of women pass on information of deals or online recommendations to others.
Women & Curiosity
Consumers are 40% more willing to try new beauty products than before the coronavirus pandemic. 75% of customers are more likely to buy personalized products.
The Process:
$Besties token holders, those who participated in our Mirror crowdfund and hold the Crypto Besties Governance token, and impactful contributors to the Crypto Besties community were given the ability to vote on what product we released, and its name, design, and color.
Our Future Roadmap:
Crypto Besties will continue to design in-house makeup/beauty products
Crypto Besties will explore more integration of the digital and physical landscape of the makeup/beauty worlds
Crypto Besties will work with other communities and influencers to produce makeup/beauty products using co-creation
Crypto Besties will work towards creating more opportunities for the community to be benefited
Sustainability: The makeup industry is out of touch with releasing what products people actually want to see, leading to thousands of products going to waste. Crypto Besties with its limited drop format allows for products to be selected and tested by the community based on demand.
Access: Many Creators want to be able to create their own brands and products, however, they lack direction and capital in order to achieve this. We will help them utilize the power of the DAO working model to bring more actionability to their marketing, building, and product testing.
Commitment: Crypto Besties was started as a community to help women and underrepresented groups gain an understanding of a new asset class. Our commitment stands and we will continue educating those groups through partnerships and events on topics related to but not limited to financial freedom.
If you made it this far… We have some exciting news! We're releasing our first community-crafted product! So keep your eyes out tomorrow for the big reveal and stay tuned for more surprises up our sleeves.
We also wanted to give a special thank you to the friends who helped us along the way, including:
Larry Florio, the Mirror team, Maggie - SheFi, Devin Lewtan - Mad Realities, Zakk - Creator Cabins, Flex Chapman - Krause House, Mike Dudas - Links DAO, DeGrasse - Pallet, Polygon Studios, the entire Crypto Besties community, holders, and everyone else who's supported us!
Want to work with or Partner with CryptoBesties? Reach out to us by DM on Twitter or email us at cryptobesties101@gmail.com